Vita VL4 14' Silver Marble swimspa
Default Title
---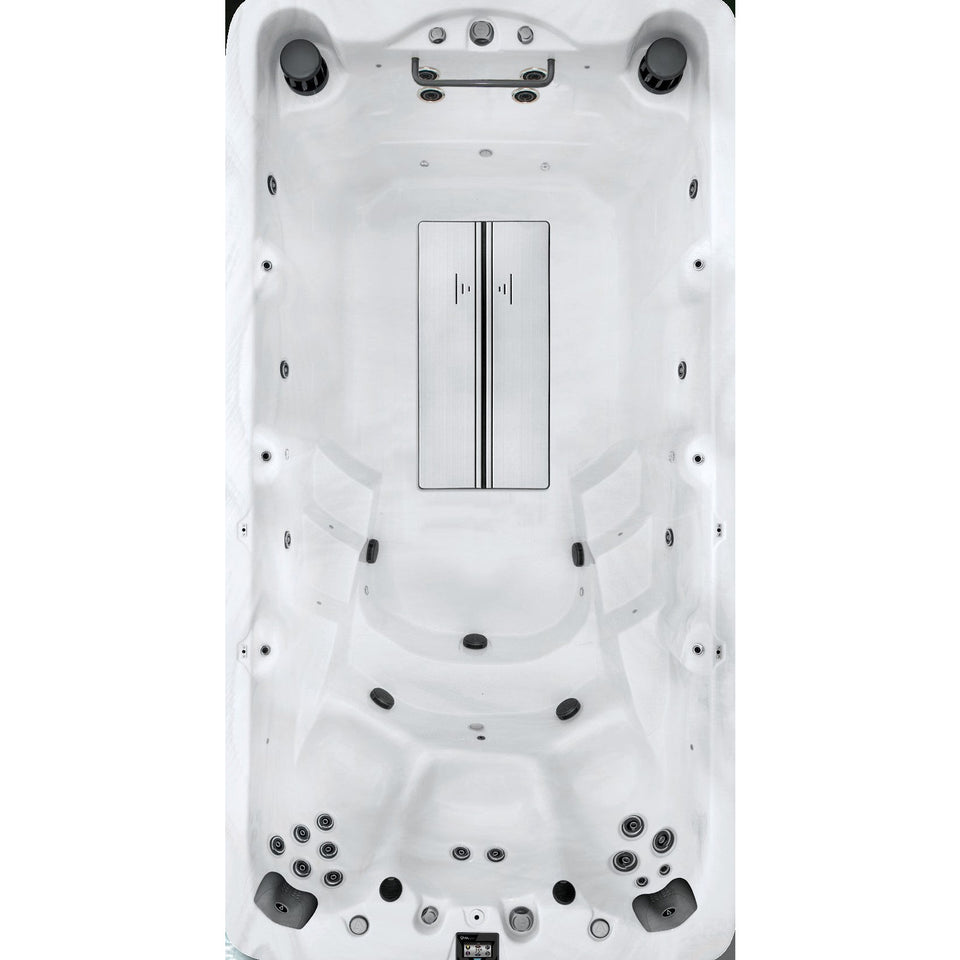 Super efficient design
All Vita swimspas are built using a super strong galvanized steel frame set into a molded HDPE (high density polyethylene) base.  The pool is fastened into that steel framework.  The insulation is the best of everything.  Vita uses a thick recycled cotton batting with a copper foil vapor barrier on the inside and a layer of 3M thinsulate on the outside.  That insulation runs from the very top of the pool to the very bottom and it goes all the way around.  In addition to making this the quietest swimspa you will find, it also traps all the friction heat from the motors and water moving through the lines, and the heat from the pool.  It's the same system as wearing a mitten.  Everything is encased inside a nice insulated warm area.  This system also allows for full access in the event that service is needed.  Any swimspa that uses spray foam is like welding the hood shut on your car.
Appliance Grade Steel Frame System
      40% lighter, yet 250% stronger than traditional wood frame pools! Our proven galvanized steel frame is weatherproof, corrosion free, and is backed with a LIFETIME structural warranty! Typical wood frame pools are exposed to the weather, including excessive moisture in winter. These wood frame spas can rot and lead to skirt panels falling off, the structural integrity of the pool being compromised, or worse. With a Vita swimspa models, you never have to worry about any of these things happening, because your pool is built with a state of the art steel frame and guaranteed for life.
Vital Energy Insulation/Heat Retention System
      VitaSpa pools use the revolutionary BlueMAAX thermal-pane insulated. Made from a recycled natural fiber, treated to prevent rodents, mold, mildew, and is also treated with a fire-retardant.  The BlueMAAX thermal pane insulation system lines the outside walls of the pool, and provides substantially better insulation than conventional full foam insulated spas. It's the same reason your fingers stay warmer in a mitten than in a glove. Instead of using urethane foam, Vitaspa uses no foam on the shell, and these highly reflective insulating panels on the outside, which encourages waste heat to re-enter the spa shell! Not only is this the most energy efficient system on the market, it makes service access a breeze! Never dig through foam insulation again!
Excel-Plus Maintenance Free Cabinets
     All VitaSpa models come standard with the 100% maintenance free Excel-Plus cabinet material. Designed to look like wood, without the hassle of weathering and maintenance, Excel-Plus skirts are the ideal pool skirting material. All pools are available in 3 standard skirt colors; Pecan Ridge, Modern Mocha, and Resort Gray.
 Benefits of perimeter insulation are fully explained here. 
Key Swimspa features
The VL4 will give you the ultimate swimming experience with its xStreamForce jet propulsion system designed to provide a steady, strong flow that will leave you feeling accomplished after a solid workout.
Add on the Exercise Kit and Pneumatic Power Oars to your VL4 to give you even more options as you work toward your fitness goals
Standard VL4 features include:

19 Hydrotherapy Jets
xStreamForce Jet Propulsion System
6 Aurora Cascades
Attribute Set
Shape

 

:

 

Rectangular

Seating

 

:

 

2 to 3 people

Panel Material

 

:

 

Ecologically Friendly Recycled Panels

Control System

 

:

 

M8 Technology

Insulation System

 

:

 

Northern Exposure System

Substructure

 

:

 

Steel Frame

Lounger

 

:

 

No

Cut to Size

 

:

 

No
Characteristics    

MAAX Force Swim Jets
Massage Seat
Rowing Seat


Dimensions
Maximum Water Capacity
1550 Gallons
Approximative Weight
1950 lb
Pumps
Amps (North America)
All Vita swimspas have beautiful Silver Marble Lucite Acrylic interiors 
as shown above plus your choice of three cabinet colors as shown below.
Give us a call at 800-809-9111 and we can get you a price including delivery, set up, and thorough training on care and maintenance.  They are very easy to take care of.  We've been selling swimspas for nearly 40 years!  Most people didn't even know they've been around that long.
---
---
We Also Recommend
---