Custom-Cut Sauna Deco Interior
Default Title
---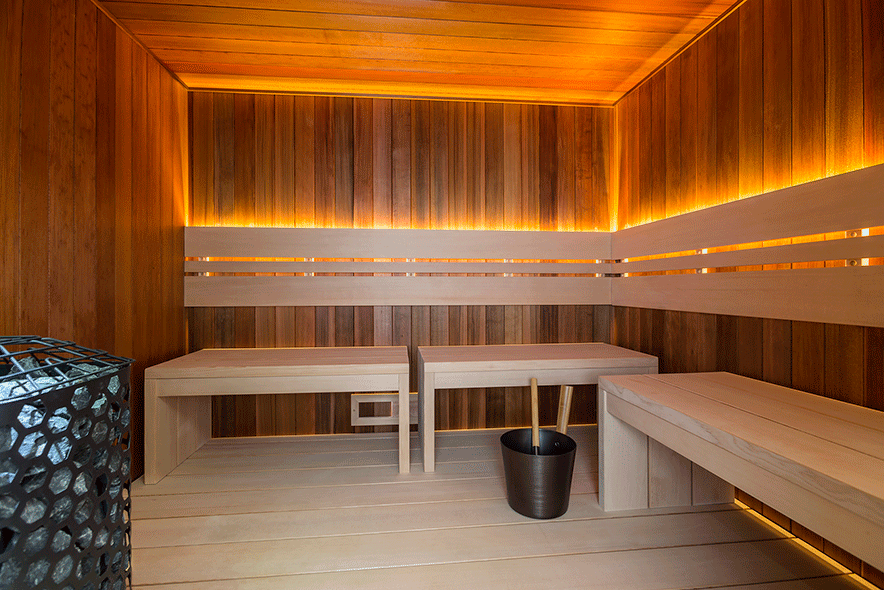 Description
The movable benches and spacious platform of the New Deco interior allows for numerous configurations to help you best utilize the sauna to meet your needs.
Specifications
A large platform with step for ease of access

Movable benches that can be relocated

Recessed LED lighting

Shown with Himalaya heater for a stunning design and the ultimate sauna bathing experience
These "custom cut" saunas are custom built and can be ordered in any size, and shape.  The price will vary depending on the size and features.  Let us help you design the perfect sauna.  We have over 30 years if sauna experience so we'll make sure it's done right.  Give us a call at 800-809-9111 or stop into our showroom in Madison at 2480 Perry St.  We're open weekdays 10-6 and Saturday 10-3 (except Dec-Feb) 
Finnleo saunas are superior in many ways

Finnleo uses Nordic White Spruce for the interior wood because it has no
tannic acid. Cedar and Hemlock is also available on request however Nordic White Spruce
stays very light in color, it is very cool to the touch, and will not absorb odors. We use
African Abachi for the benches. Abachi is a very soft, white wood. It too has no tannic acid,
so it stays cool, and is very soft and comfortable to sit on. The benches are assembled from
the bottom with stainless steel screws. No metal is exposed.
Here's what each complete interior package includes
Finnleo Custom Cut Sauna packages include everything you need to finish the inside of a sauna. You provide the 2 x 4, or 2 x 6 studded 84" high room structure and insulate it with standard fiberglass bat insulation. Everything else for the inside is included. Materials for the outside and optional items, upgrades can be added to any custom cut package, or you can finish the exterior in any material you like.
Package includes

Special foil vapor barrier for walls and ceiling
Pre-cut to exact lengths T&G Nordic white spruce for interior walls & ceiling
Pre-built African Abachi benches fully assembled with stainless steel screws
Pre-built African Abachi backrests for each top bench
Pre-hung bronze all glass door, solid wood door w/window, ADA doors too.
Stainless steel Finnish sauna heater with imported rocks and controls
Brushed chrome interior wall light designed for high temperatures
African Abachi corner and cove molding for walls and ceiling trim
African Abachi interior door casing
Adjustable fresh air ventilator, two abachi vent grills
Abachi heater guard for extra beauty and safety
Sauna Bucket with long handled Ladle for a great blast of steam
German made sauna thermometer
African Abachi duck boards (floor boards) for the walk areas
African Abachi headrests for top benches
Installation instruction booklet with color photos
Unlimited free support before, during, and after installation @ 1-800-809-9111
Complete custom cut sauna packages start at around $5500.00 
---
---
We Also Recommend
---