Fantom 6 passenger rotationally molded hot tub
Default Title
---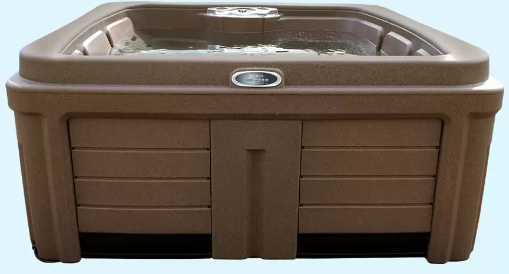 FROM OUR CANADIAN FRIENDS COMES THE FANTOM!
The Fantom is a super durable 6 passenger hot tub.  You can take it home and just plug it into a 120 volt outlet or you can convert it to 240 volts and it can keep up with just about any sub zero hot tub party.  
100% SERVICEABLE
As with any appliance, you will eventually need repairs. 100% access to your equipment and your plumbing is critical if your repair costs are going to be reasonable. Your Fantom was engineered with serviceability in mind. Your spa has access panels and/or ports so you can easily get to your components and plumbing and all insulation used is removable and reusable. Expensive repair bills will not be an issue.
A "TRUE" CASH & CARRY PORTABLE SPA
Your Fantom is light enough to be lifted by 2-4 people and it can be transported on a small trailer or in the back of a full sized pick-up truck. Goodbye delivery fees. Your Fantom also includes a short "Quick Start-Up Guide" that makes placing it, filling it and plugging it in as easy as 1-2-3. Goodbye set up fees. And remember, you have full factory support.
ALL SEASON INSULATION
Your Fantom is extremely well insulated with Thermofoil covering the inner cabinet walls, floor to top rail. Thermofoil is reflective and it creates a heat curtain, trapping heat underneath the spa. Your plumbing stays warm and cozy, and your water stays hot. If you need to do a repair, the insulation can be pulled back for access and it is easily put back in place. A 240 V connection is recommended for optimal heating performance.
AMBIENCE LIGHTING
To enhance your spa experience, the Fantom has a multicolored LED main light and a backlit waterfall. The lights can be set to stay at one color, or you can enjoy one of many different color change patterns. And to add to the ambience and illuminate your surroundings at night, the Fantom has LED sconce lighting on each external corner of the spa.
AVAILABLE COLORS
Each house is unique, which is why we have developed 2 shell colors for our Fantom: Dark charcoal, or Moka.
Dark charcoal

 

blends in with all surroundings but it truly stands out in a blue/grey environment
Moka

 

blends in with and accentuates a natural environment of browns and earth tones
EASY-ACCESS DRAIN VALVE
Occasionally, you will want to drain the water from your spa and replace it with fresh water. With the Fantom, it's as easy as connecting your garden hose to the external valve and then letting the water flow.
L.E.D.-ILLUMINATED EXTERIOR CORNERS
The Fantom spa is equipped with color-changing L.E.D. corner lights. These lights will illuminate your spa and its surrounding areas to create a peaceful oasis conducive to relaxation. You have access to a selection of colors and rhythms that will meet your needs.
JETS
The Fantom is available with 20 adjustable stainless steel jets. The jet pattern in each seat is different to enable you to alter the focus of your massage. You can also enjoy the soothing relaxation provided by the neck jets and the foot jets.
INNOVAFLOW HEATING EFFICIENCY
Your Fantom is equipped with Innovaflow to help you save money. Innovaflow is an inline plumbing configuration that weighs in on an old and proven principle: when you create friction, you also create heat. Innovaflow creates friction in the water lines which generates heat and helps to reduce the cost of operating your conventional heater. And saving money is always good.
NO HASSLE INSTALLATION
• No site preparation.
• Sits on any solid, level surface.
• Saving money is always good
Our spas are freestanding and made of one solid piece (monocoque). This explains why you don't have any complicated preparation to do before installation.
PLUG & PLAY
The Fantom is a Plug & Play spa. Plug & Play spas are equipped with a 120V GFCI-protected electrical power cord for immediate and simple connection to your power source. The cord on the Fantom is 15' long and ready for you to plug it in. No electrician required.
Want more power?  For a small additional cost this model can be upgraded to the huge 4hp 240 volt jet pump.  If you do that the spa can no longer be used at 120 Volts but you'll have the jet power and the heating power to tackle any sore muscle and cold winter.
POLYETHYLENE CONSTRUCTION
Your Fantom is a one-piece, rotationally-molded spa made from virgin polyethylene, and that's a good thing. Did you know that garbage cans, portable toilets, the cones on combines, kayaks, canoes, RV tanks etc. are made from polyethylene for two major reasons: polyethylene will not hold bacteria and it is virtually indestructible? It won't crack or chip in cold weather or get waterlogged. Your spa could last forever.
RECOGNIZED EQUIPMENT & COMPONENT MANUFACTURERS
Innovaspa uses plumbing components and electrical equipment that is manufactured by the leaders in our industry. Names like Balboa, CMP, LX and Rising Dragon. These components are not only reliable, but they are readily available from multiple sources for service and replacement.
SEATING
• 4 versatile seats with ergonomic wraparound bed
• Angle at the knee optimized for comfort
• Seat backrest with a unique angle at each position allowing diversity and a massage unique to each seat.
• Ideal for people 5′ to 6'3″
WATERFALL SERENITY
 If you enjoy the soothing sound of cascading water, then the Fantom will certainly add to your relaxation experience. It features an adjustable waterfall with the brilliance of LED backlighting. You can set the speed at which the water falls. You can choose your favorite light pattern and then just settle back and enjoy the serenity.

Call us today for a price quote or more information.  800-809-9111 or 608-257-4200 or send us an email now!
---
---
We Also Recommend
---