Solace Sisu panel built Designer sauna
Default Title
---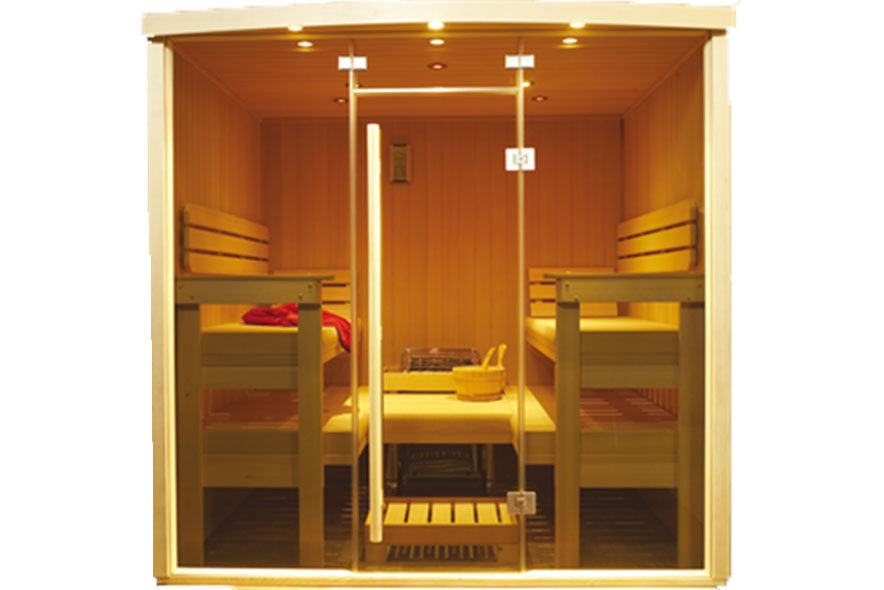 Description
This Solace Sisu package includes everything you see in the photos.  The setup takes normally about 4 to 6 hours.  This type of panel built sauna starts with a bottom base track.  This wood frame is assembled and leveled then the pre-built wall panels stand up over this wood track.   Unlike the Hallmark series that includes a full vinyl floor, your existing flooring material is what you will see and stand on once a sisu panel built sauna is assembled. 
At the factory in Cokato MN, these saunas are built and completely assembled, checked for quality and fit, then disassembled and carefully packaged for shipment.  All the hardware and instructions are included and when you buy from Leisure Concepts you also get unlimited phone support.  You can speak directly to people that have assembled hundreds of saunas or if you prefer, we can set it up for you.  Once assembled it's ready for the electrical connection that should be done by a certified electrician.  All but the smallest of these saunas require a 240 volt circuit.
(We are only allowed to show suggested list prices so give us a call if you're interested. 1-800-809-9111)
The Solace was designed to take advantage of Finnleo's popular 'new' Deco Designs and the open feel of a 'full-glass' front wall. This sauna uses a frameless All-Glass door, top panel and two full glass fixed side panels for an inviting and luxurious look. Best of all the Solace is among our most affordable Designer saunas, and it includes luxurious upgrades.
Specifications
Outside dimensions: Depth 84 inches, Width 72" inches, Height 84 inches

Includes overhang ceiling with low voltage puck lights

Interior puck lighting and color therapy lighting, all controlled from a simple 3 button light control or from your SaunaLogic control system.

Full-glass front door, transom and side panels.

Full-length wood door handle

Platform Deco seating with fixed upper benches

Deluxe arm-rests on glass side of benches

Sauna heater 6kW Vena-T with Pure control, see below.

Natural wood exterior and interior

Available in Nordic White Spruce/Abachi, Hemlock/Abachi or Western Red Cedar
Above: The Solice combo traditional with IR system incl. Infra-Sauna!
Outside dimensions: Depth 72 inches, Width 81 3/4 inches, Height 84 inches

Includes overhang ceiling with low voltage puck lights

Expansive use of bronze-tinted glass with four sidelight windows and an all-glass door, creates a warm glow when viewing from the outside, and a panoramic view from inside.
Deco style benches with wall-to-wall middle platform, and L-shaped upper benches, integral arm rest.

Low voltage lighting system integral with the backrests, for special interior ambience.

As shown the Mystique can includes the upgrade heater Pikkutonttu with Pure control.  Designer heater with Saunalogic 2 control is included.
Available in Nordic White Spruce/Abachi, Hemlock/Abachi, or Western Red Cedar
---
---
We Also Recommend
---