Vita Spa L300 Series Elegant
Default Title
---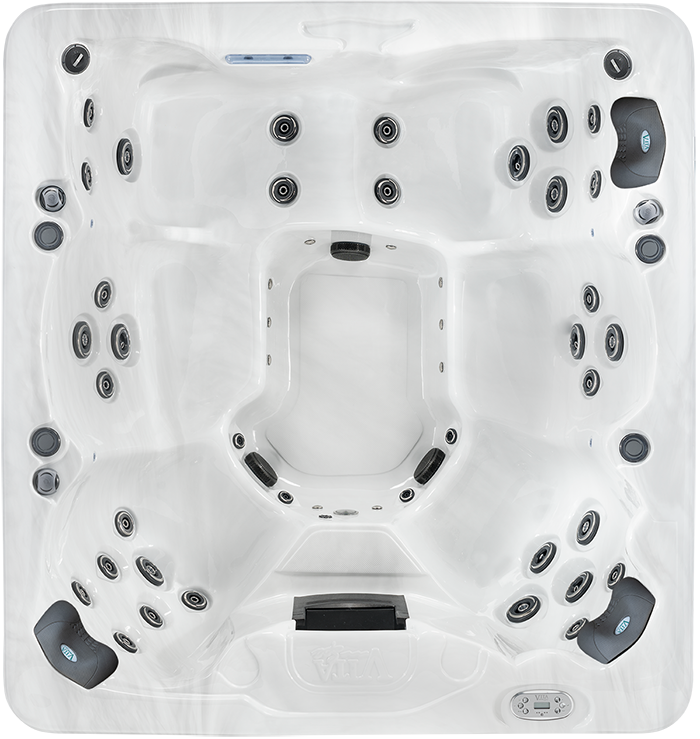 Specification
Measurement
Seating:
5 Occupants
Size (LxWxH):
78 1/2" x 83" x 37"
200 x 211 x 94 cm
Weight Dry/Wet:
791 / 3,539 lbs
359 / 1,605 kg
Volume:
331 gallons / 1,253 liters
Pumps:

Pump 1: 56 Frame 2-Speed 5.0 bHP




Pump 2: 56 Frame 1-Speed 5.0 bHP

Voltage/Amps:

240V/40A/60A

Number of Jets:
39
Standard Features
View the features video
Vital Energy Insulation
The Vital Energy Insulation system is the most energy efficient system on the market. It is Vita Spa's eco-friendly recyled insulation made from recycled plant fiber and is impressively effective in radiating heat back into the hot tub. Vital Energy Insulation does not contain any chemical irritants, is treated with a borate-based solution to prevent mold/mildew growth, pest infestation, and acts as a fire retardant. It is a suitable replacement for urethane foam which, when applied, can produce as much as 50 lbs of environmentally harmful volatile organic components (VOC's). Moreover, Vital Energy Insulation is easily servicable and easily re-installed.
Exclusive Spa Jets (left to right)
Ultra Blaster:

14 mini jets in one provide amazing pressure and tension ease. The ultimate Jet!

Turbo Whirlpool:

These move up to 140 gallons per minute!!! Most often found in foot-wells and the Colorado River Seats

Twin-Spin Pulsator:

A rotating, pusating jet

Select-A-Swirl:

Adjustable from stationary to full swirl

Tension Ease:

An adjustable, mini swirl jet, often in large groups

Cluster Jet:

Always placed in groups, these mini jets produce HIGH pressure
Excel-X™ Maintenance Free Cabinets
All Vita Spa models come standard with ecologically friendly and virtually 100% maintenance free Excel-X™ cabinet material. Designed to look like wood without the hassle of weathering and maintenance, Excel-X™ skirts are the ideal hot tub skirting material. All spas are available in 3 standard skirt colors; Pecan, Gray, and Mocha, plus optional rock skirts.
---
---
We Also Recommend
---